Top Yard Waste Junk Removal Services by Dear Junk Company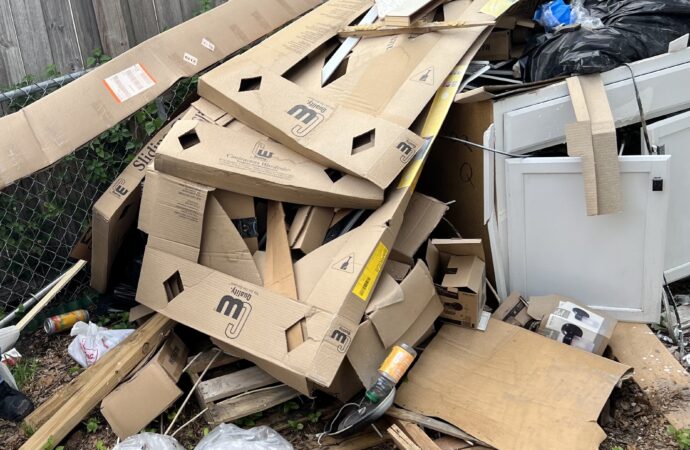 It is easy for your yard to get neglected. It is important to take care of it whatsoever if you are planning any projects or need to handle a large amount of junk you have accumulated due to renovations or other projects. Yard waste junk removal will be a crucial service as it will enable you to dispose of all junk and other items and finally have your space for actual important activities or purposes.
Our team at Dear Junk can help you organize outdoor parties and barbecues by cleaning the entire yard and taking care of the waste you have in it. We can help you not only get rid of it but also lift and move the waste to make your yard clean and tidy.
You can even host guests outside if the weather is good. Think about what you can do with this space, how you should be capable of obtaining all the help you need, and how much time you will save in the long term.
Yard waste can cause a mess in your yard and damage your property. It can also make it look untidy. Yard waste cannot be disposed of by simply removing it from your yard and leaving it there for the service to pick up whatsoever, which makes this entire task a hassle. After all, this is not the way how municipal service works. Most of the time, you will have to deal with too much junk and waste on your own.
You have made the decision to outsource yard junk removal or outdoor junk hauling. Now you need to find the right company. We will handle the whole process and ensure that you are done within the time frame you set, so rely on our team to deliver the best yard waste junk removal service in the entire state.
But in All This, What Is Yard Waste Junk Removal?
Many property owners are able to spend the time and energy necessary to maintain their landscaping and gardens, but maintaining your lawn and trimming shrubs is part of this responsibility and working around how you dispose of everything once done is ten times as important. Even though you might not live in a home, you still have the right and ability to maintain green spaces, but you will need to think at what cost.
This is the hardest part of all: clearing out the yard and getting rid of any junk or waste. Remove the leaves and trim the yard to get rid of the junk and trash that has been piling up.
The work of raking leaves and trimming the grass is only half of the job. Many renters and homeowners have their own organic trash recycling containers. These are the ones provided by the municipal waste management agency. What if the junk isn't green, and you have to clear it all?
We can help you remove all junk from your yard since the local service won't be able to do so, especially if you're dealing with large amounts of junk.
We will visit your property and remove any junk, items, appliances, or leaves that could be considered to be waste.
When you clean up your yard, the most important thing is to think about the season. If you live in Palm Beach or any other city in Florida, you can clean your yard in any season. Even if it rains, you still have plenty of time to finish the job and have us, which is the most important part as we know how to work under different weather conditions.
Our team can handle your yard waste and reduce your weather worries. We can collect your yard waste without you having to face the elements or staying in the rain.
Take into account the work you do and how many yards it will create. Our team will take care of all your waste and provide you with an estimate. Once we have established the scope of work and the type and amount of waste we need to dispose of, we can visit your property.
We offer free estimates and will recycle all of the items and junk we find. We will not let you down, and we will make sure that everything is done quickly, so there is no junk or trash.
Allow us to be there and provide an estimate that is free of charge and comes with zero obligations in all this, so don't feel pressured to hire us just because of it.
Here is a list of our services you can get at Dear Junk:
---
Dear Junk is the top company in Florida that offers the best residential and commercial junk removal services. Here's our additional services:
---