Top Above Ground Pool Removal Services by Dear Junk Company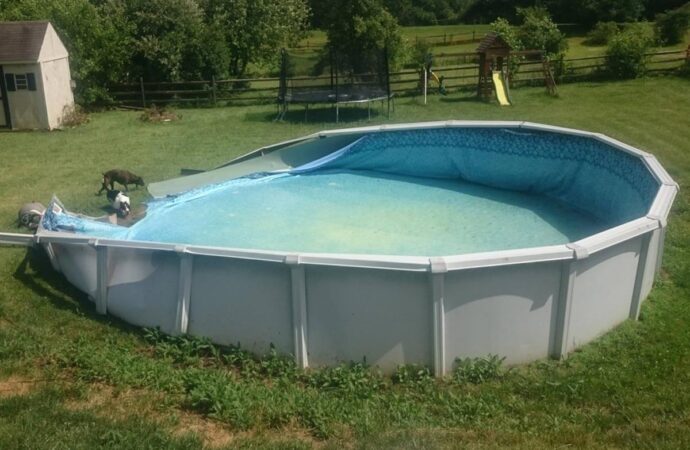 If you are thinking of adding a new feature on your property, a pool is a great option no matter what other people say because it adds value to your property and brings you many years of enjoyment. You have many options in Florida to choose from when building a pool, but we do have to admit something: It can be quite expensive. What if you don't want the same thing? Perhaps you don't want it installed but want it removed. How much would it cost to take the pool out? The average cost for above ground pool removal is $1,000 to $3,900 or more depending on its size, condition, piping, misc items connected, and location.
Other types of pools might be more expensive depending on how they were constructed. The point is this: Who can provide above-ground pool removing services that won't leave you disappointed?
We will be happy to help you if you have an above ground pool. Dear Junk has a reputation for being a premier company in the state. We will remove all of your waste and clear the space so that you can use it and every corner for other purposes or for the pool you want next.
Most junk removal companies offer only one service: The removal of junk and garbage. It all depends on which services they offer and how they can assist you. However, if you require this company for specific reasons such as a pool removal or even certain cleaning, make sure that it can handle the difficult task. Otherwise, you will end up with a business that only wanted to close the deal but doesn't offer a good support in what you need.
We will provide the highest quality services possible and remain focused on our clients' needs. If necessary, we will remove your pool and make sure that all materials and debris are taken to the most appropriate facilities and disposal centers for recycling or disposal.
The entire process will be handled by us at your house. Sometimes it might even look like a demolition.
What Can We Do to Help You with This Removal?
We can come to your house and remove all junk and debris after the pool is removed. If you require us to help with the whole removal, we can also provide this service.
We aren't experts on DIY projects or ways to save money so we understand that not everyone wants their pool removed by others. We hope that you will be able to rely on our guidance and make the right choice, and it will go smoothly without any negative consequences so you wouldn't rely on doing it yourself at some point.
We can help with all your needs, including recycling the junk we take away from your home.
We can remove your entire above-ground pool if you require our full service, and work around how we will dispose of all the items, debris, dirt, dust, and more. If you have question about how we work with this, our process is quite like this:
We will inspect your pool and measure the necessary dimensions to determine its size and condition.

We will remove all materials in order to determine which materials can be recycled or which ones must be disposed.

Our team can deal with any elements in or around your pool if you need it.

After we have removed all debris, dirt, or junk from the removal of the pool, our team will clean up all spaces.
We offer a full service. We will not leave you behind in any step of the process and won't be there for anything.
How Much Does It Cost to Remove an Above-Ground Pool?
There are many factors that could influence the price of the job. We schedule a visit at the pool to see it and assess its size, condition, and work required. We will then give you a price and let you choose the right truck and equipment.
Let us know if you have questions about your budget and payment options. No obligation to receive our quotes. These quotes are free and you can get them right away.
No matter what your need, we will be there to help. We are here to accommodate all your concerns about this service. Please contact our team at Dear Junk and rest assured that accommodating your needs and what you want also includes negotiating the final price or quote you receive from our team when getting it free during a visit or even phone call.
Here is a list of our services you can get at Dear Junk:
---
Dear Junk is the top company in Florida that offers the best residential and commercial junk removal services. Here's our additional services:
---