Top Cubicle Removal Services by Dear Junk Company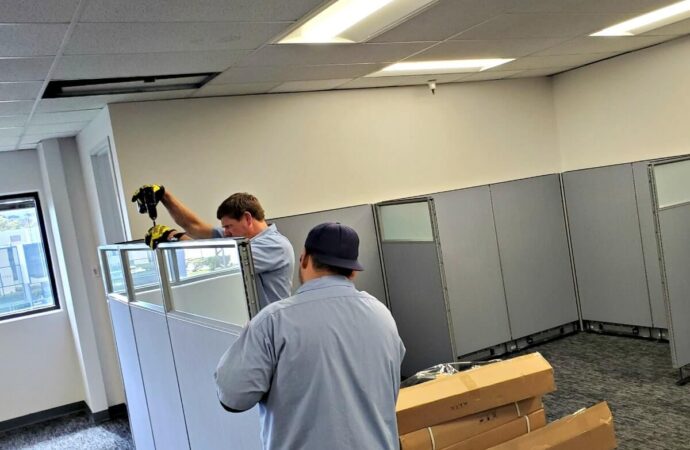 Do you have a cubicle-crazed manager or business owner who wants to get rid of all the cubicles in your office? While it may seem like a simple task, if you are frustrated by the cubicles, the process can become overwhelming. It is not only difficult to remove them, but also the responsibility for disposing of any materials and other items. You won't have the ability to remove them yourself, as municipal services are not able to help you and won't usually take all the junk and trash left behind by this kind of removal. Fortunately, Dear Junk can provide cubicle removal services. These include all the support you need for this type of project and more:
No matter how many cubicles you have, our team will help to remove them all. We will come to your location and start removing cubicles.

We will take away all junk, waste, and debris, and then load the truck with them. We will then prepare the junk or dumpster for transportation to the proper disposal sites or recycling centers, depending on the items we are removing and the materials used to create the cubicles.

We will do all the heavy lifting, which is obvious considering the two components of our cubicle removal services.
We're working hard to ensure that cubicle removal is as easy for business and office owners as possible. Because cubicles are often designed with other junk, such as printers or computers, we need to ensure that everything is in its proper place. We also want to ensure that all the trash is taken to the right places.
We are the best in the area, and we can take care of all kinds of waste. We won't hesitate to take on any job, so you can count on our team to get rid of all your junk and printers.
How Do You Request This Service?
Our team can be reached by phone or email. You can also use our contact form to request service and provide us with all the details. We'll be glad to help you with all your cubicle removal needs in minutes.
It can be difficult to get people out from their cubicles in an office or business. We are here to assist you. We are quite proud of what we do and how we do it since we also focus on these principles during every job and as part of the entire company's working process.
Discrete.

Responsible.

Trustworthy.

Professionals.

Experts.

We respect your business hours, and we will not interfere in any other tasks or projects that are taking place on the property.
How Much Will the Removal Cost?
Price of cubicle removal service varies depending on how many cubicles need to be removed, the amount of work required, the size of the truck that we use and whether you rent a container or not for this.
It is possible to rent a dumpster and put it in your own place. This does not include the cost to have it taken away whatsoever.
Our team can handle all aspects of your removal. We will come to your home as many times as you require, clearing out the space so you can do other things or replace the cubicles.
We are available to answer all your questions, no matter the reason. We will immediately respond to your email and message, and rest assured you will be served accordingly via phone when you use this method to contact us.
We will schedule a visit to provide an estimate. You can contact us using our contact form. We will visit the site quickly to assess and determine all details. The quote we give comes with no obligations. You can hire us immediately, or take your time thinking about it since there isn't something such as hurrying in this process. Instead, we will always be available to help you, no matter when you call us.
We can also help you with specific business removal requests or if you have any questions. We service all of Palm Beach as well as more than 30 other locations throughout Florida that need people like us dealing with all the removal and junk possible so their properties are filled with unused items or that the spaces and areas people own aren't filled with a lot of junk that could be in the best transition centers or the recycling facilities where we can still get the most out of them due to the materials used to make them.
Here is a list of our services you can get at Dear Junk:
---
Dear Junk is the top company in Florida that offers the best residential and commercial junk removal services. Here's our additional services:
---