Top Storm Cleanups & Services by Dear Junk Company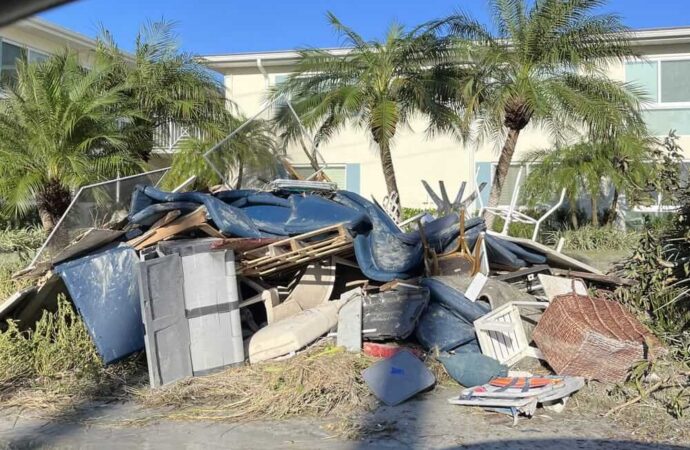 Florida's storms can be more frequent than we realize. We can learn to accept them and then focus on getting everything done, but certain things can always delay us when we're trying to work around needs and what needs to be done. We want you to consider how important it is that you avoid any further damage or harm, and get rid of all the trash and other waste when you just went over a storm and your property is a mess. It is important to think about how we will handle the junk, dirt, debris, or trash left behind by nature. Therefore, focus on finding a support service that can help you. Dear Junk has been providing services for the community for more than 20 years. We can assist you with storm cleanups of your property and multiple spaces, and ensure everything is sorted and organized.
We are always available to help in an emergency and ensure that you don't have to do all this alone when our reliable professionals and members are here to help you with every step and make sure you can go back to your regular days once we are done.
We want to let you know that we are here to assist you in any way possible and make sure that your property is ready for use in no time, so yes, we want to take our time to repeat this so you get all the support from our company by just asking about the service.
Storms can create a lot of damage and you might be concerned about the effects they may have on your property and home. You should think carefully about how you will deal with all the dirt and junk on your property before you rush to fix it.
We will provide affordable services to help you request storm cleanups. We will do our best to help you get started on your storm-related remodeling and repairs as soon as possible.
You don't need to make your property or space a disaster in order to request our services. We are happy to remove any junk or dirt from your property and ensure we move any type of items you want to dispose of in this entire process.
We Don't Support Sending Waste to Landfills
Landfills are not eco-friendly and we don't use them. In fact, our company is 100% environmentally-friendly and will make sure that we take any junk, materials, or other items to our facilities for proper disposal and recycling facilities whenever it is possible to get the most out of some materials.
If disposal is required, we will do our best to reduce the amount of junk and items left behind.
We want you to not have to worry about additional items. We can help you with trees or plants if you need to clean up after a storm. These elements will all be available for those who require them.
It is difficult to clean up after a disaster. There are many things you can do. We provide the best recycling services, and we will dispose of items that are not recyclable. We are experts in this area and will do our best to make it as easy as possible.
You Can Request Our Storm Clean-Up Services at Any Time
You can access our services throughout the year if you need them, as well as in an emergency, such that we have mentioned. We are always available to help you. Storms can strike when you least expect them. We want you to be prepared and when it happens, you can count on us for the cleanup so you don't do it alone nor have to struggle finding a service out of nowhere or in the last minute due to your emergency and situation.
To request a quote, or to have an estimate of the cost after we visit your home to determine the extent of junk and dirt that needs to be removed, please contact us. We won't charge you for this and you can focus on the actual cleanup, not worrying about how much it will cost right away since this is only a free quote.
We are available to assist you. If you require an estimate before we begin working on your space, please let us know. We will focus on your assessment during our visit, and provide you with a no-obligation quote.
You have two options: call us immediately or wait until we return when you have gotten our estimate. We will then take care of all the junk for you and be your best supporters.
Here is a list of our services you can get at Dear Junk:
---
Dear Junk is the top company in Florida that offers the best residential and commercial junk removal services. Here's our additional services:
---