Top Disaster Clean Outs & Services by Dear Junk Company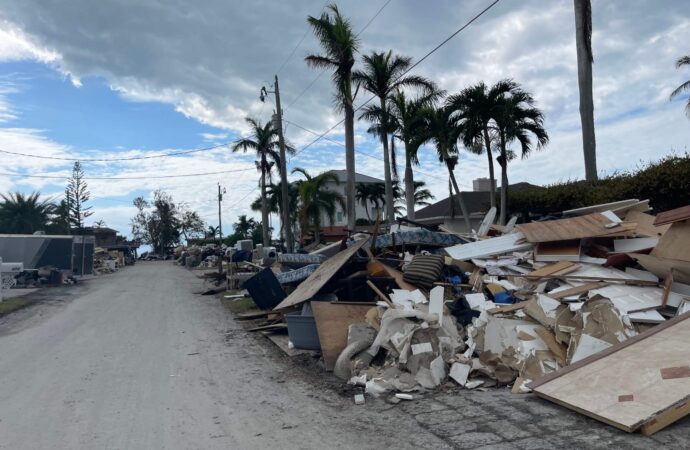 It can be difficult to cope with natural disasters and how nature chooses destruction of our homes or places to live. In most cases, we need to invest in repairs and renovations, restorations and construction projects. However, we also need to think about how to make the property shine again by removing all the trash and junk left behind before we can even think about the renovation. At Dear Junk, we have a reputation for providing disaster clean outs. We are able to help with any kind of disaster and all the cleaning that goes with it so you can get it done in no time and start working around your needs.
Our team is here to assist you in any way that you require. This is especially important considering we have to deal with junk, trees, and other objects that may be causing problems in your space or property.
We will visit your home to assess the damage and to determine how much work is necessary. We will then provide a free estimate.
As this quote is not binding, you can rest assured that you won't be required to hire our services right away nor forced later. We want you to be happy with the estimate and total cost of disaster cleanup. This is why we encourage people who are interested to call us to schedule an assessment and get all details about the pricing.
We will inspect the property and determine the extent of the damage. We will then move your property junk and items to our truck, and remove everything that cause inconvenience in your daily life.
Dear Junk is able to meet all of your needs. For more information, please contact us and ask all your questions without hesitation.
How Do I Get in Touch With Dear Junk for Our Disaster Clean Outs?
Contact us via phone, email or use our contact form. Contact us to arrange a visit with one of our teams. As mentioned, we'll give you a free inspection from this and ensure you are comfortable with the price given.
We will provide you with an estimate which will detail the work that we will do, the method we use, and any additional costs. This will help you understand the price and where it's going.
Remember that disaster cleanup can involve regular debris and dirt, not just junk we know about. To determine the type of equipment or truck we need, we will also need to inspect your area.
If you are not able to allow us access to your property or space immediately, and would like an estimate on the cost of the service please give as much detail as possible. This will allow us to address any junk or other issues that may arise during the clean out.
We will do our best to give you an accurate estimate. However, we can't take into account all factors when you request it like this. This could lead to an increase in the cost of your project.
Additional members of our team will be available to assist you in this clean out. This will ensure you're happy and don't have to worry about other chores after a disaster.
You can contact us via phone, email or visit us to make an appointment and ensure you can have all the information regarding this disaster clean out and how you must get things done in no time so you can proceed with the rest of your project.
Can You Get an Estimate in One Day?
Absolutely. Call us to schedule an appointment. However, if you require it immediately, we can get there and assess the damage and determine the amount of work required to remove all the trash and other garbage that was left over from the disaster.
The service may vary from one another. We cannot always control disasters or clean up after them, so we are here when you need us. 
It is best to schedule your appointment at least one day in advance so that we can provide all the support and have our trucks and crew with you throughout the entire process.
Let us handle the cleanup and the aftermath, and we do want you to know that if you require same-day services, we can still comply with this by working hard around accommodating your needs an ensuring you don't have to struggle alone throughout this entire process. Leave it to us and have our team working with you for all this process.
Here is a list of our services you can get at Dear Junk:
---
Dear Junk is the top company in Florida that offers the best residential and commercial junk removal services. Here's our additional services:
---