Top Demolition Removal Services by Dear Junk Company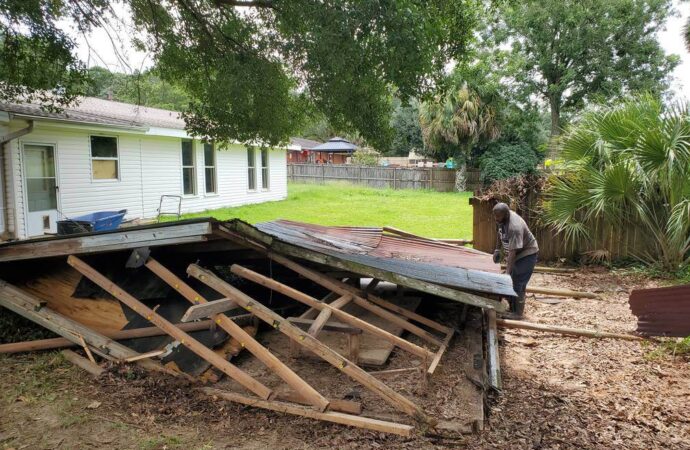 It can be difficult to find contractors to help you with your demolition project. Imagine that you'll need professionals to take out all the trash and junk besides having them dealing with the removal. Companies and contractors should handle demolition and all waste, but if they don't, there are competent professionals who can help. If you are the one handling it, then you should worry about finding skilled experts who can provide good services and focus on how you can work around the demolition removal needs that come naturally.
Fortunately for you, our team at Dear Junk is able to assist you in this task. We will make sure that there are not too many companies competing for the job and you do it correctly so you can close more businesses and have all the debris and waste removed properly. 
If you are the property owner, person doing the demolition, or a contractor who needs to make sure that the demolition is covered for your clients, you can either hire us or request our services. We will help you with any removal project. Please ask us right away and rest assured our team can handle the process without much effort or many issues.
We have been providing services for over 28 years. We are proud to say that demolition removal is one our most important services. Contractors and property owners seem to have more trouble getting rid of the waste from their projects. When they rely upon us, the whole process turns out to easy and simple when you see how we can handle the removal and all their recycling.
We can remove dirt, dust, and other debris. We have a lot of experience with waste and materials. We can quickly get to your property and remove everything while focusing on leaving the space clean. This will enable you to prepare your property for the next step, or simply clean up the areas that were demolished in case you don't need us to handle this part.
You are always welcomed to request our services, but we want you to know this: We care about the environment. You can rest assured that all waste and recyclable materials will be removed when you work with us or decide to have us as your experts and company.
We will also look to see if there are any items or junk that can be salvaged from the demolition. This will allow us to save as much as possible, and ensure that all items can be reused or used by people who are interested in getting the most out of them.
What's the Most Expensive Part of Demolition Removal?
It is important to remove all dust and other debris. It is difficult to collect these materials and put them in a truck or dumpster whatsoever. It is not uncommon to spend a lot time removing these materials and elements, which makes this entire process the most expensive one if we had to number or mention one above other parts of the project.
Our team will take care of this so you don't need to worry about allergies or debris removal.
It is easy to have us come and clean up the space, and ensure you have everything under control with our service.
We can assist you even if you're not the client or the property owner or simple owners of what is being demolished.
We can assist you with this difficult task. Contact us today to learn more about our services, and to get in touch with our experienced and qualified members of the field.
Contact Us for Your Demolition Removal Needs
We are available to answer any of your emails or calls at all times. Calls are answered most frequently during business hours. Emails and messages left on the contact form will be answered within 24 hour or less if they are received within our normal hours.
Most estimates can be done during a visit. Although you don't need to hire us immediately after the visit, we are always available to take your calls later. This estimate is not binding. We only provide it to let you know how much the service will cost. 
You can rest assured that all items and debris will be removed correctly and with the help of our team.
We will be there to help you with all your concerns, including disposal and recycling, so make sure to rely on our qualified and experienced team in the city and several more locations.
Here is a list of our services you can get at Dear Junk:
---
Dear Junk is the top company in Florida that offers the best residential and commercial junk removal services. Here's our additional services:
---