Top Concrete Demolition Removal Services by Dear Junk Company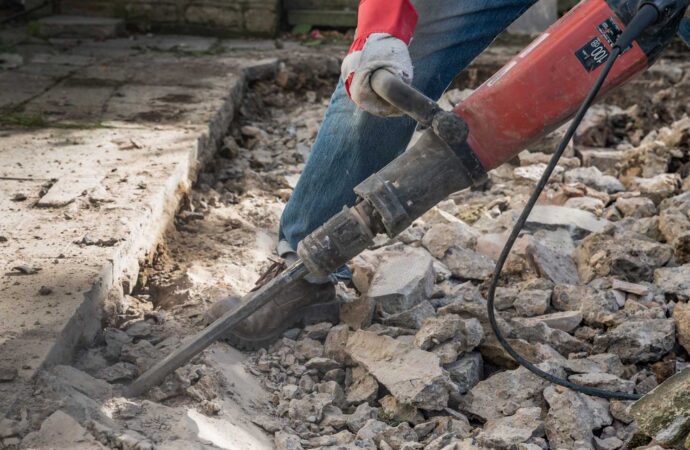 Removing or breaking up concrete is certainly a task you can carry out by yourself if you want to save some money. However, at what cost?
You see, sometimes, saving money isn't the important part. Two things that are far more important than money are time and health. Removing concrete is such a job that requires a lot of effort and in the process, your back will suffer a lot.
Demolition sounds easier than removal, but they are both the same at some point. People use the word "removal" when we are talking about floors, and demolition when there's a structure that needs to be demolished, but, aren't you removing all the concrete anyways? Therefore, both things for me are the same and they entail the same energy and effort as well.
Before you try to do this by yourself, keep in mind two things:
If you try to remove and demolish the concrete without employing someone else, it's 90% sure that you will end up with back pain, and sometimes, it may be forever depending on what is causing it.
If you remove or demolish the concrete, but you're planning to employ a company or someone else to help you to pour the new concrete, you will spend more money. Disposal fees are high when the company wasn't the one doing the job and no one likes to fix or work in a place where someone else tried to do something but probably failed or did it wrong.
When you think about these things, are you actually saving money? I doubt it. I know it's hard to get the idea that sometimes, we need to employ someone no matter what or maybe because it is the most viable option. Therefore, when it comes to concrete demolition removal, make sure to employ a company that can take care of this task for you such as Dear Junk.
The company has years working in this field and we will remove, demolish and dispose of the concrete for you. We will do it perfectly, so there's no need for you to worry about it. You just have to give us a call or visit our offices or website for more information. If you have any need and you need us to assist, do not hesitate to reach out to us, and we shall respond with speed to help you out.
Here is a list of our services you can get at Dear Junk:
---
Dear Junk is the top company in Florida that offers the best residential and commercial junk removal services. Here's our additional services:
---