Top Fence Removal Services by Dear Junk Company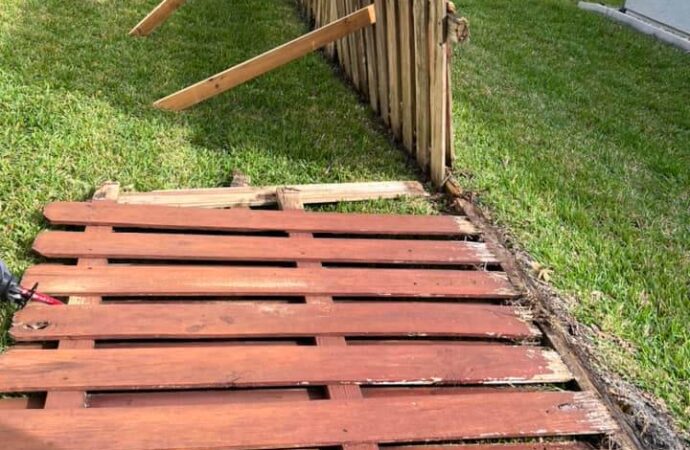 Although fences are a great way of keeping unwanted animals off your property and trespassers away from it so you don't have to be awake all night, they will eventually become too old or you will want to make changes to the appearance of your property. You can either uninstall the one that you have or you'll need to work around the one you already have. If you go for any of them, you will still need to worry about several aspects, including how you can dispose of them at the closest recycling center or transition station. But how do you do that? The team at Dear Junk will assist you in fence removal and ensure that you do not have to do more than necessary or struggle alone with this entire process.
This is often more difficult than you might think. It is important to replace damaged or rotting fencing immediately. Also, you need to find the best place for all materials and items around the fence. You should also get any materials or parts that can be recycled and ensure they go to the right recycling facilities. You will not only be helping the environment, but you will also make it more affordable for certain industries and yourself.
We can handle any job size and help you with your removal in no time. We understand that every fence is different. We don't want you to struggle with the tools or to work with professionals who aren't skilled enough for the job.
Palm Beach and other Florida businesses won't mind disposing of any materials. We want the environment to be protected. That's why we offer the assistance to you in removing your fence, and the service to thousands of people, beginning with you.
Simple and Fast Fence Removal Near You
Do you want to get rid of an old wooden or chain-link fence? Do you have any questions about the fence's material? Maybe you own multiple properties that require the removal of more than one fence. Our team is equipped with the necessary tools and equipment to take down any type of fence. We are also able to remove multiple fences simultaneously and make sure that all materials and junk left behind are properly disposed of and recycled.
You could do it yourself, but it is not worth it when we can do it in no time. You don't have to worry about moving junk or waste with a vehicle you don't own, nor do you need to search for the best equipment or transport to handle the rest.
We will do the heavy lifting so you can focus on more important tasks and rest assured that recycling is part of our main principles in this entire process.
While you are relaxing, we will remove any old or decaying fencing and haul it away. We will do all the heavy lifting while you focus on the feature.
What are the steps to make this possible? There are several ways to take down a fence depending on the materials. You have two options: pull them out of the base or take them off with a specific truck. Depending on your needs, we can do either one or both. We may be able to find a better solution if we are faced with a specific issue.
Customers may ask us to remove the posts from their sites after installing a new one. We can also help with your requirements if you have them. This will give you plenty of options for putting in your fence.
We can trim the base posts if you have a tight budget. If you do have it or don't want to spend a lot, this is the best option. We will adjust the service to meet your needs.
Our team is available to assist you. Fencing removal can be labor-intensive and time-consuming. You will need to transport the fencing and make sure that it is properly handled, and we want to be there for you to handle every step without any delay and issues.
We will come in to take it out, clean up the mess and haul it away. You won't even have to lift one finger during the entire process.
Are you interested in learning more about our fence removal services? For a free quote, you can send us an email or call us anytime. To give us all the information we need to book you for your next removal, use our contact form or feel free to use any of the other options.
Here is a list of our services you can get at Dear Junk:
---
Dear Junk is the top company in Florida that offers the best residential and commercial junk removal services. Here's our additional services:
---