Top Computer Junk Removal Services by Dear Junk Company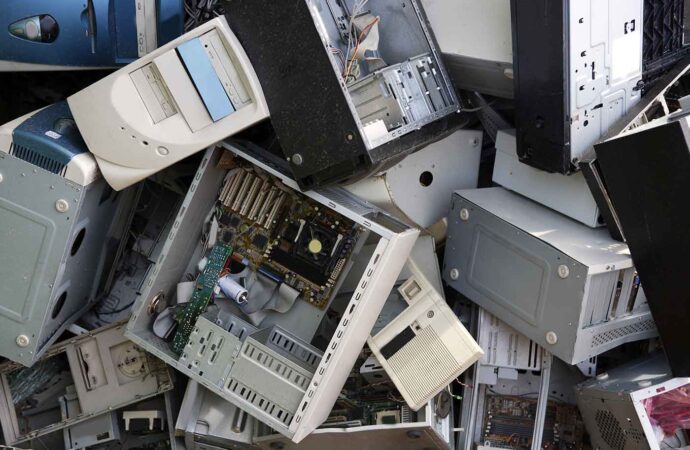 Recycle your computers and get rid of any you don't use. For this, our team at Dear Junk can help you get rid of them using our computer junk removal service and focusing on how we take them to the best centers. We will ensure that everything is done quickly and without any delays. We can make sure that you have enough space for new computers, and we can bring them to a place where they can be recycled or donated, depending on how old and functional they are.
You will find many computers, monitors, or peripherals in homes and offices that have not been used for some time. Because their owners aren't sure what to do with them, they often store them in these areas or in corners. These items shouldn't be thrown away with the regular garbage. But what should you do if you're part of the group of people that needs to handle these items as junk now?
It is possible to become frustrated at the number of computers taking over your space and property. Let's suppose you need to get rid of them. Our team is the best choice for computer recycling. Every item is properly disposed of, but certain parts and materials may be reused or repaired depending on their condition and whereabouts.
Computer recycling is good for the environment because computers that are retired often find new homes or are repaired by other people where we leave them ourselves. We will partner with the most reputable centers and facilities to recycle as much as possible plastic and metal parts to minimize landfill impact.
Our professional junk removal team can remove your old computers for businesses. As an eco-friendly option to recycling computers, we offer e-waste in specific. This allows you to upgrade your hardware without any pollution or harm, and rest assured we handle all the lifting and removal when taking the computers to our truck and dumpsters.
How Does Our Computer Junk Removal and Recycling Service Work in The State?
You should not throw out computers that are no longer needed or damaged. Computers can be recycled if they are inspected and separated from other junk.
There are many options for anyone who is interested in the process of disposing of computers. You can donate to those in greatest need, or you can repurpose any parts or materials that are recyclable.
Computer disposal is just like any other junk removal process. It is important to separate the device and recycle it. Computers that are in good condition can be donated to schools and charities for the less fortunate. We can help you locate the right parts for your computer to make it usable again or focus on how we can donate them.
The computer parts are separated into metals, plastics, and cables at the processing plant. Many of these items are recyclable or can be melted. We use only the best facilities to make sure that everything goes smoothly and that any junk or leftovers are disposed of as efficiently as possible.
Recycling computers can save millions of pounds of toxic electronic waste. This could pose a threat to the soil and water supply. You should look for a junk removal service that can offer great support in recycling and work with eco-friendly principles.
Even if computers aren't needed, we will dispose of them.
Computer recycling can be both economically and environmentally friendly if we manage the process efficiently and quickly. Professionals are needed to protect your computer data. We can also help you with any number of computers that you may have.
We are the Best Company in Florida for Computer Junk Removal
Our company is the leader in e-waste recycling in Palm Beach County, and you will soon learn that it is in the entire state of Florida.
We are proud of our heritage and believe in being environmentally responsible. We recycle as much as we can and even have our own recycling plants.
To learn more about our services, to remove your computer, or to get an estimate which is completely free and non-obligatory, call, email, or fill out our contact form so our team can go to your property and support you in this entire process to ensure you are being helped and supported in this removal and that you have a team that worries about recycling and the planet as much as the junk itself in order to help you alone.
Here is a list of our services you can get at Dear Junk:
---
Dear Junk is the top company in Florida that offers the best residential and commercial junk removal services. Here's our additional services:
---