Top Household Trash Junk Removal Services by Dear Junk Co.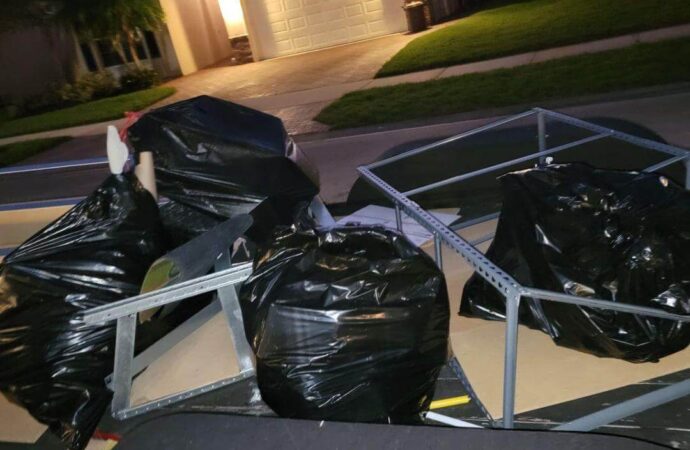 It can be hard to get rid of junk in your house if you live with a family that moves trash around constantly and tries to keep it clean, or maybe you have a whole neighborhood where you will need to invest your time. Many areas in Florida are experiencing difficulties with local services nowadays, which just makes things worse. They aren't available as often as they should, and this can cause more trash to be generated each day. Dear Junk can take care of all your garbage and household trash junk removal needs. You won't have the unpleasant smell of waste collecting on your property. We can also pick up any other trash that is not in your garbage bins.
We want to make sure you understand that junk does not just refer to general rubbish or junk that you have to get rid of. Junk is more than just food waste and the usual rubbish that you should, no matter what, throw in the trash bins.
Think about everything you would consider trash or waste. This will give you a clear picture of what garbage and items we can dispose of for you. We can do this on a one-time basis or on a regular basis, depending on your request.
We will take care of junk in your house and ensure it doesn't pile up. This includes junk and regular garbage, as well as couches and electronics.
If you have household garbage, you can ask for specific pickups. All garbage will be moved by our trucks and dumpsters. This can be more than food waste. It can be a temporary or recurring problem. We want to remind everyone that we are here to help with anything.
This is why junk, including household garbage, can often be a problem due to its sheer volume, but we promise to be there for the full disposal and removal as needed.
Most municipal services will not pick up extra items that you request. This problem is solved by us. We make sure that everything you want to get rid of or recycle is properly handled and taken to the most appropriate facilities and centers in the state.
How Can You Request Our Service?
Our team is easy to work alongside and quite easy to contact. Let them handle the entire process so you don't have to worry any longer.
Call or email us to access our service. Our support team will assist you. Please let us know how we can help you or if you still are unsure of what needs to be done because if this is the case, then we will work around this problem or issue first.
We will often ask you for information about your trash. This includes the amount of waste and what needs to be taken out. Our visit and estimate are free of charge, so no matter where you live or how large your trash collection is, you can choose to hire us immediately or later if you're ready.
Our company is always available so that you don't feel pressured to hire us immediately. You can either have us available the same day or reserve our services for a specific date. Once you have received an estimate, we will wait to hear from you.
Why Should You Leave Your Household Trash to Experts?
It's not easy work, and it can also be dangerous.
You can see the difficulty involved in lifting heavy objects, dealing with certain materials, and handling materials that could possibly be recycled. Yet, you just dump them as regular trash.
Our team at Dear Junk can handle the whole process for you. This will allow you to concentrate on the important details like where and how your trash is being recycled.
Our team will simplify your life. We will help you sort out your junk and haul it away. We will dispose of your junk as soon as possible or send you parts for recycling.
Contact us to have the entire team work around your requirements. Although the estimate is free, it can be requested by email or telephone. However, it may not be accurate due to the fact that we are unable to see how much trash we have. You can negotiate the final price with us as well, and rest assured that we will always focus on how we can accommodate every need and request, even if this includes fixing the price based on the budget you have.
Here is a list of our services you can get at Dear Junk:
---
Dear Junk is the top company in Florida that offers the best residential and commercial junk removal services. Here's our additional services:
---