Top Refrigerator Junk Removal Services by Dear Junk Company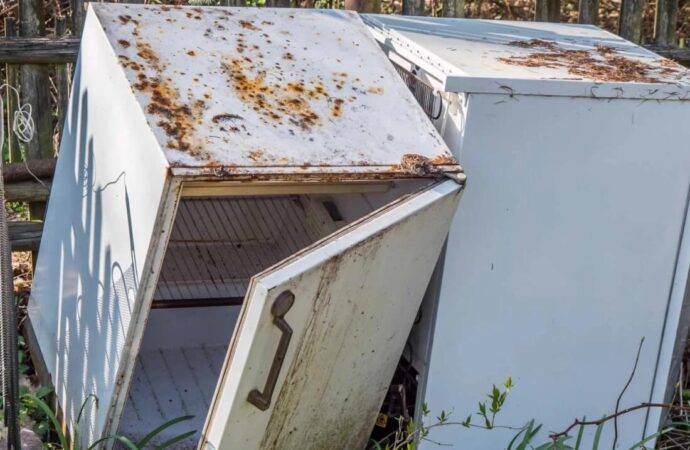 It will be hard to remove an old refrigerator on your own, starting with the fact that you will need to transport the refrigerator to your curb or place it in a safe area where it can be picked up by a junk removal service, or you will need to find the disposal place on your own. You also need to deal with the heavy lifting itself and how everything can be messed up when you consider the amount of work involved and how careful you must be with the refrigerator junk removal you're going through.
Because they don't have the right vehicle or dumpster to store the fridge, local services will not pick it up most of the time, making this even more difficult than it should be. If they do pick up one, they will take it away and leave it in a landfill instead of looking for recycling places. Our team at Dear Junk does things differently.
We are here to help you through every step of this process so that you have the best possible experience. You could leave your fridge in your yard or call us to have it removed with the rest. Even though it may require lifting the refrigerator and moving it to our truck, we will be able to pick it up and handle the entire removal for you, so you don't struggle with this process.
We are a highly-rated company that can assist you with refrigerator junk removal. We can not only help you move the fridge to the correct place, but we also take care of the lifting.
Our team will assist you and make sure you get all the support you need to be able to relax and not worry about the item or electronics.
We'll send the correct truck and all necessary members, depending on the size of the appliance. We'll then remove it quickly and ensure you can finally stop looking at this eyesore or have enough space for your new one.
We are the best junk hauling company in the area. We can also help with your refrigerator removal, as well as other junk removal needs.
How to Access Our Service in Florida
We are available to help you with all your needs. You can call, email, or complete our contact form.
Our contact form included all required fields. This allows you to be as specific about your requirements as possible and the service that you need. We will get back to you quickly and help schedule a visit.
We will inspect your home to determine which item or, more precisely, what refrigerator we should take out.

To discuss your needs and to ensure that we are available for you, you can contact the removal company directly and rest assured we will offer you all the good support and service you should receive in every company, but not many people pay attention to.
If you call us by phone, we will return your call as soon as possible or answer right after you call us since we will be in business hours. We will get back to you as soon as we can. If not, even if we aren't available during normal business hours. It may take up to 24 hours, depending on when you contact us and if you're using emails and contact forms instead of phone calls.
Our staff is friendly and easy to reach. We want you to feel comfortable and receive all the support that you require for this service.
Book Us or Request a Same-Day Service
If you have been planning for this for a while, we recommend you hire our team. It will ensure that we can move your refrigerator on the date you need. With the right truck and the right people, we will be able to provide support.
If you have an urgent removal or project, please contact us. It can sometimes be difficult to schedule a visit.
We can help you determine if your fridge needs to be completely removed or donated or if you would need some extra help dealing with some elements while trying to remove all the refrigerators from your place.
Make sure to contact us and request a free estimate to know how much this will cost and how we can help you deal with it. The estimate comes with zero obligations, and you're always welcome to contact us days later or even weeks after you have received the estimate so you can have our team working on your issue.
Here is a list of our services you can get at Dear Junk:
---
Dear Junk is the top company in Florida that offers the best residential and commercial junk removal services. Here's our additional services:
---