Top Electronic Waste Junk Removal Services by Dear Junk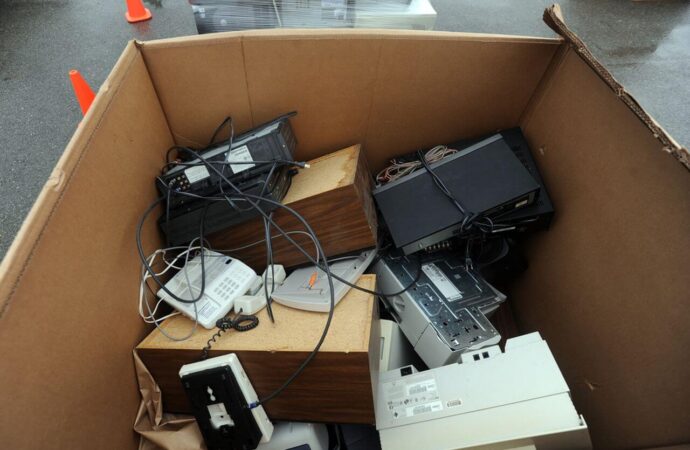 It's not as easy as it looks to get rid of all your electronics. Regular trucks and municipal services won't have the ability to haul them away. It is not possible to simply dump your electronics in the garbage and expect most local trucks and services to pick them up, either. Most of them can be recycled or donated, but the question to all these assertions is: how can you go for the most comfortable and appropriate option? This is not how the system works and can cause frustration for you since the regular services won't usually be enough. At Dear Junk, can take care of all your electronic waste junk removal needs and make sure that you get rid of everything.
We will visit your home or business to inspect any electronics you are looking to dispose of. If you own a commercial property, our support will also be provided.
E-waste is not the same as regular junk. It should be managed properly to reduce pollution and bring joy to the faces of anyone who might want to use it, and if the items can still be used, it is about getting the most out of everything.
We will take your electronics to the appropriate facility and decide what to do with them. We can take your electronics to the following facilities. What facilities are the best for recycling, donating, or disposing of them? Everything will be handled by our team, and how we will take into consideration all of these options and handle them.
This is a very important task, and we take the time necessary to complete it every time a service request is made. We want to make sure that electronics such as a TV, CD player, fax machine, or computer are not placed in areas that could be harmful.
What Electronics Are We Able to Get Rid Of?
All your electronics at home, office, or business properties. We can haul away any electronics you have. We will need to know how many electronics you have to haul away before we can provide you with a final estimate.
We are always available to help you remove unwanted items from your home. We recommend that you call us if you have large tasks.
All electronics can be recycled or disposed of by our team.
Stereos.

VCRs.

DVD players.

Monitors.

Cell phones.

Washing machines.
They can be removed by our team, and you will have enough room to store new items or get rid of anything you don't use in a while.
What Electronics Can We Recycle from the Ones We're Throwing Away?
Our team can dispose of all items and recycle them if they are possible. Most electronics can be repaired or refurbished and donated. It is possible to do all three simultaneously. These items are not thrown away and just left in landfills if things don't go this way. Instead, they are taken to recycling facilities where they will be inspected and decide what can be done depending on the condition.
If they aren't repairable, they can be recycled. If they cannot be recycled, the facility will dispose of them and be eco-friendly about the entire process.
Sometimes our team can help determine whether electronics are recyclable or not before moving the items to a specific facility. Our many years of experience are what enable us to do this. So that the items can be handled quickly, we immediately get them to the correct place.
There are many options for safely disposing of electronics without affecting others' lives.
Donate electronics to charities so they can be used for those in need. Although it can seem tedious, we are determined to do right by our customers. Either we check which electronics can be used or ask how many electronics are still in good condition.
We will take care of your electronic waste and recycle it all. Request a quote for electronic waste removal from our team. No matter how small or large the items are, we will gladly assist you. Let us know the number, and we will give you a quote.
The quote is often provided by us after we have seen all the junk and determined the space they will take in our truck or the amount of work it will take to remove them. Many variables are involved in the estimating process, but this doesn't make the service and the whole removal process expensive.
The estimate is also non-obligatory, and you can rest assured everything will be free of charge.
Here is a list of our services you can get at Dear Junk:
---
Dear Junk is the top company in Florida that offers the best residential and commercial junk removal services. Here's our additional services:
---