Top Trampoline Removal Services by Dear Junk Company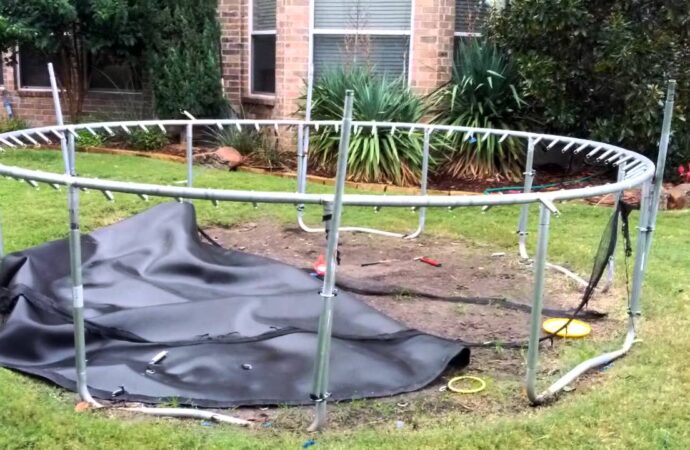 Trampolines are super fun at the beginning and after a few months, but there's always a point when we get tired of them and when we look at our yard, all we see is junk.
If you think about it, everything we buy or acquire one day becomes junk and when this happens, all we want to do is get rid of it as soon as possible so we don't have to see garbage in our house.
However, getting rid of the junk is hard since there's always something new. When it comes to trampolines, removing them isn't as easy as you may think. Installing them involves a lot of work, to begin with, what makes you think it won't be the same when removing them?
Another problem you will face is that your municipal garbage service won't pick up your trampoline if you leave it in front of your house next to the garbage. This service doesn't pick bulky items, which is why many people struggle to try to get rid of appliances, furniture, mattresses, and in your case, trampolines. Therefore, you need to worry about removing it and hauling it away to someplace where it will be recycled or disposed of properly.
It's completely normal if you have no idea where that could be or how can you recycle a trampoline. Well, the last one is quite easy, you can find someone else that probably wants it and donate it, but if you weren't able to find one person, then leave this task to a company that can remove it for you and disposes of it correctly.
A company or employing someone in general is always the best option when you have no idea how to do or handle something. Therefore, don't hesitate and contact a company that can guarantee you the best services when it comes to trampoline removal.
We, at Dear Junk, make sure to leave your yard without any sign of your trampoline and we dispose of it without harming the environment. You can entrust us with this task and expect the best results. If you have any need and you need us to assist, do not hesitate to reach out to us, and we shall respond with speed to help you out.
Here is a list of our services you can get at Dear Junk:
---
Dear Junk is the top company in Florida that offers the best residential and commercial junk removal services. Here's our additional services:
---