Top Flood Damage Cleanups & Services by Dear Junk Company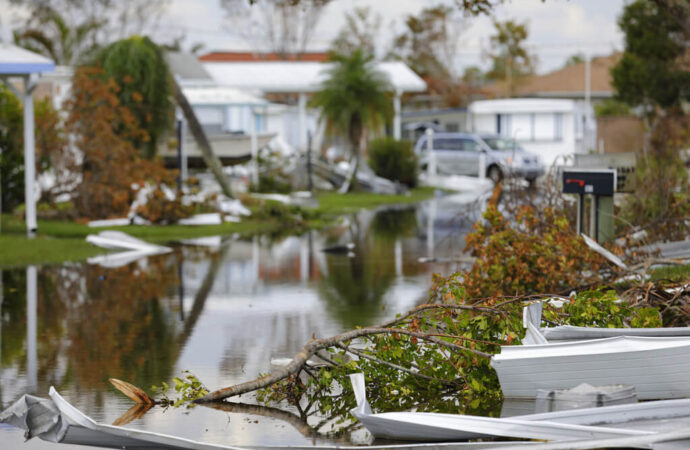 If your property is affected by flooding, you may feel helpless. After all, you will need to clean up the mess and repair the damage caused by the water receding, which can lead to a lot more junk and trash and, of course, more expenses. You must act immediately to reduce the damage to your property, and to restore safety if it has been affected by flooding. This includes repairing any flood damage, and making sure that the affected areas are addressed. Our company, Dear Junk, will make flood damage cleanups quick and easy and ensure you get everything removed so you can move onto the next stage of arranging the areas and ensuring you start working on the repairs.
We want you to know that we can work with you and restore your property to its original condition with a cleanup, or leave it as clean as possible so you can perform all the pertinent repairs and changes needed due to the damage caused.
Flood damage can pose many risks to your health. Also known as "black water", can be contaminated, for instance. Professionals should handle any cleanup and ensure you aren't exposed more than necessary to all this. 
Flood damage should be repaired as soon as possible and we will be there dealing with this for you.
All junk and other old materials must be thrown out. This can be difficult for property owners and homeowners, but we can help.
Flood damage can be devastating and cause irreparable harm. However, professionals are able to manage the situation quickly. If you discover that your property has been affected by water, it is important to act quickly. Flood restoration involves draining all water from your property and disinfecting it. You can take steps to reduce flood risk after an incident by:
If you don't have the time and ability to move your valuable possessions yourself, we can help you. 

You can have this task done by experts so it doesn't become a frustrating or difficult task. However, it is possible to start on your own depending on your circumstances.

Floodwater can be contaminated with many bacteria and viruses. Everyone should evacuate affected areas and seek refuge. Floodwater can cause serious health problems and make you sick, so we will make sure to work fast and ensure everything is removed quickly.

Turn off electricity and gas if it is safe. This will reduce the risk of water leaking or electric charges.
It is important to have professionals inspect any building after a flood. These professionals are familiar with the damage floodwaters can do to buildings. They also have the equipment and tools necessary to clean up any mess left by the team and provide restoration options. We will help you determine how to proceed in all this and ensure you're getting every box checked for this process.
How Can Flood Damage Be Reduced?
Flood damage can be reduced more effectively if you prepare than if you repair it. This is because you can't predict what might happen. We are certain that you will need to be very careful about how this whole process turns out.
You can take immediate measures to prevent flooding, and you may be able to work around some problems. However, it's important that long-term planning is done before severe weather strikes.
Moving belongings from the main floor to the upstairs, raising furniture above the ground and using sandbags can help to reduce flood water entry points. You can also change the slope and landscape, as well as install water barriers and drainage systems for long-term flood mitigation.
You should also get rid of all junk and other items if you want to address flooding. You can then focus on what you can recycle or donate to the dump and what you can keep in your home.
We will sort your belongings and ensure you don't feel overwhelmed by all the work involved. We can help you clean up the mess.
How to Access Our Flood Damage Cleanups Service
For all your assistance, call our team. You can contact us via email or our contact page to request our service. We understand that calling is the best option, and we will gladly answer your questions.
Contact us today for an estimate, emergency service or additional information. We will be happy to work with you and have every member or as many as you need from our staff at Dear Junk, work with you in this quite challenging cleanup.
Here is a list of our services you can get at Dear Junk:
---
Dear Junk is the top company in Florida that offers the best residential and commercial junk removal services. Here's our additional services:
---