Top Office Furniture Removal Services by Dear Junk Company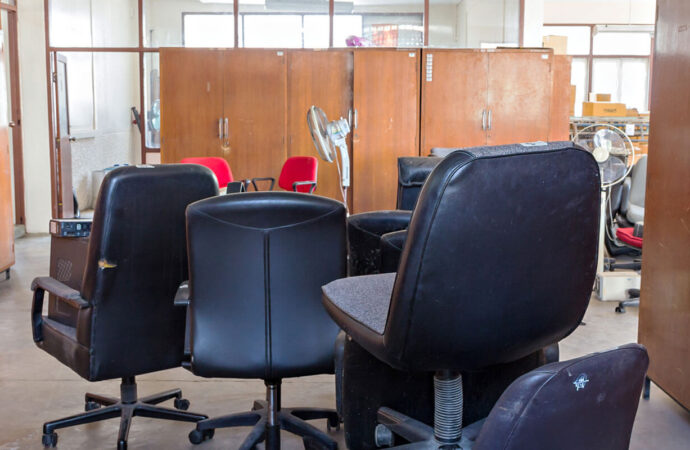 You are here if you need help moving to a new location or dealing with your office furniture removal since you don't know how to move so many items, or don't know how to dispose of them nor where to take them for recycling or even donations. Dear Junk can help you with all of your office furniture removal needs and ensure you get the most out of your time and investment when you rely in a top company like us. No matter how long it takes, we will be there to help you with the heavy lifting and loading of the truck assigned for the task.
Our company is a long-standing industry player and is confident that we can quickly handle disposal, especially when we consider the ultimate goal: to make your life easier while being eco-friendly.
What does eco-friendliness have to do with this? We don't want furniture to end up in the landfills. There are many ways to dispose of furniture today. Many companies opt to be more environmentally friendly. We are determined to change this trend.
Call us today to discuss your office furniture removal needs. We can assist you with every aspect of the process. If the furniture is in good condition, we can donate it to charity or recycle it depending on the value we can extract from it.
Many local services will allow you to pick up some couches and tables. However, they may not be able to collect all the furniture. They also won't have the chance to meet their trash and junk collection quotas if they do it. They won't normally take the furniture to recycling centers or donate it either, which is a huge reason for not taking it or leaving it to them in many cases.
We will visit your office to inspect any furniture or other items you may have if you decide to work with us. Then, we load them on the truck and dispose them. This service is not offered by competitors or other companies as it would require additional employees to assist you. 
We don't care if you need more people. As long as you need us, we will have the right truck for your needs. We also ensure that the whole lifting and moving of the furniture to our truck is done by our team.
How Can We Help Businesses With Their Office Furniture Removal?
We are always available to help anyone who requires our services. We will ensure that all furniture is loaded in trucks, at the most efficient recycling facilities or in transition centers. This will allow you to rest assured that they will be taken care of properly.
We provide a variety of services to Palm Beach, Florida, and other cities. You can be sure that we will be there no matter where you are located or how you wish us to assist.
Even if they are in great condition, furniture and other office items can be thrown away. If we find someone who is interested in them, we will donate them. We care about all things. We can also assist those who might benefit from the furniture you are removing.
There are many other things you can do. We want to make sure that furniture is not left in landfills. This only pollutes the environment, and can contaminate the planet.
No matter what size your office or business is, we will work with any furniture that you have to be disposed.
We can help you get rid of all your furniture including tables, couches and lamps, desks and cabinets, as well as other items, so rest assured we're not limited regarding the type of furniture you have in your space.
What Is the Price for The Service?
Prices will vary depending on the amount of furniture and how many items need to be removed. Price can also be affected by the amount of work required to remove the furniture. We will visit you at your office to determine the cost and provide a free quote.
Call us to hire our team or make your final decision after we have provided you with a quote.
If you have a tight budget, we can work with you to reduce or increase the number of items that you pay so that you can afford them. We can accommodate your every need, no matter how much you have to spend on this removal. Get in touch with Dear Junk today to get your needs all covered.
Here is a list of our services you can get at Dear Junk:
---
Dear Junk is the top company in Florida that offers the best residential and commercial junk removal services. Here's our additional services:
---