Top Freezer Junk Removal Services by Dear Junk Company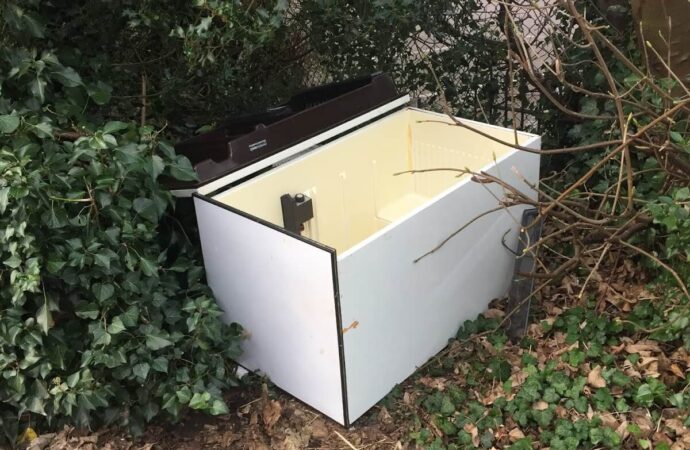 It can be a lot of work dealing with your regular freezer and how you, after a long time, need to dispose of it due to specific problems and issues that have been brought up due to how old the appliance is or maybe just because you want to replace it. What you need to think about in all this is: how are you going to dispose of the freezer considering everything? Our team at Dear Junk will help you remove that old freezer and take care of the rest. We can help you make space for the new freezer or remove any existing freezers from your commercial property if you have several to deal with and don't know where to start, and all it takes to have us for this is requesting our freezer junk removal service. 
Maybe you just want to get rid of that one you have been keeping but aren't using. We will come to you and provide all the assistance needed for freezer junk removal, regardless of your reason, and ensure you can have the entire appliance in a place where people who really need it use it or have all the parts recycled as much as possible thanks to where we take the junk to for proper disposal.
Local services require very specific equipment. They must also meet certain property requirements and how they can work with your pickup and help everyone in the city. this is why they will not pick up junk that isn't meant for their truck. They might also have to take up too much space, which could hinder their ability complete regular pickups in the area.
Property owners require assistance with freezer junk removal, being the issue with municipal services is often the main reason for it. The item cannot be disposed of but should be recycled at the appropriate facilities.
We want you to dispose of the item properly, but once it has been recycled and everything handled. To do this, we must ensure you get all the support and care you need from the beginning. What does all this mean?
This means that we will handle the entire process of taking out the item and making sure there is enough space. We will also work to get it to the right disposal center and donate or recycle as much of it as possible.
How Do We Remove Your Freezer?
Our service is easy to use. Once you've taken the first step, namely how to contact us via email or phone to tell us what freezer you have and how we can dispose of it, the rest will be easy.
We'll answer all your questions and arrange a visit to inspect the item. Then we will determine the truck needed and load the truck with the correct number of people. We will assist you with additional items, and we have enough people to load the truck with the freezer.
We will come to you and give you a quote on the cost of the removal. Many clients need services immediately or in an emergency. This is fine. This places us in a tough spot because we do work with bookings, and maybe we don't have any units available. But we won't let you go but rather focus on how we can try to accommodate your needs.
Book us to come to your location and give you a quote if possible. Our staff can provide same-day service if you require it.
Our team is the best choice. You will be able to avoid any conflicts regarding not having enough trucks or not being able to help you immediately. We will have more than 50 trucks and support teams available. Planning and prevention are always appreciated.
You can rest assured that all the steps are simple, and we will assist you in every way possible.
How Do We Dispose of The Freezer?
It doesn't necessarily have to go to the trash. We recycle as many items as we can. We can also donate items after examining their condition.
We are eco-friendly and put a lot of effort into this. 
Contact us now to have our team assist with this task. We will ensure that you don't have any issues with heavy lifting or other concerns.
If you're wondering if we can move large quantities of freezers, we can. We have the right trucks to load them with multiple items and make sure they get to their correct centers.
Here is a list of our services you can get at Dear Junk:
---
Dear Junk is the top company in Florida that offers the best residential and commercial junk removal services. Here's our additional services:
---