Top Appliance Junk Removal Services by Dear Junk Company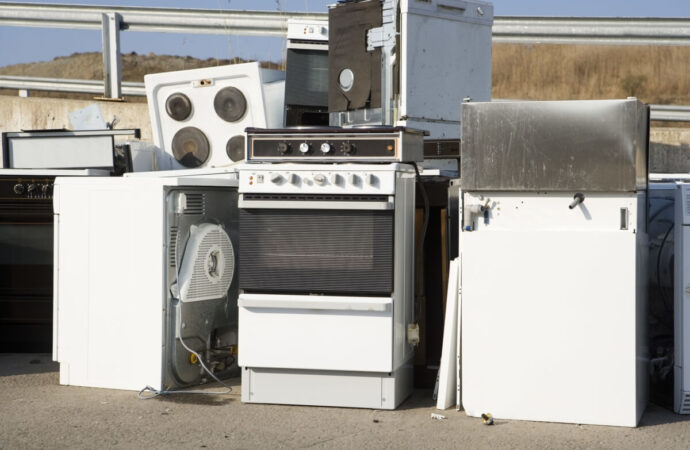 Are old appliances starting to wear out and taking up space in your house? You might just need to get rid of old appliances that have been collecting dust and have stopped functioning, yet you don't know where to place them or what to do with the whole item and if it can be recycled. It doesn't matter what kind of appliance it is; we all know how difficult it can be to remove and dispose of them. Our appliance junk removal team at Dear Junk makes it easy and painless for you to get rid of all the junk and trash you've been collecting and no longer need.
We will visit your commercial or residential property to evaluate the appliances you wish to get rid of. We will then load the appliances into a truck or dumpster, and transport them to their final destination.
We care about the environment, and appliances can still be used. They will be donated or taken to the appropriate facilities so people can repurpose them, or the perfect centers can get all the materials for recycling and dispose of the rest property. This is so that we don't waste anything and that our company is eco-friendly, so expect us to do the best for the planet.
We will inspect the items and determine if they are worthy of keeping, if they can be reused for another purpose, or if it is possible to recycle parts based on their materials.
The question is: Can you remove any appliance with our help?
Many property owners have called us to get rid of their dishwashers and dryers. We can also help with appliances that cause a nuisance or collect dust in your space. We can help with regular refrigerators, freezers, and washing machines, as well as heaters and microwaves.
We are unable to deal with dangerous items. If your appliances are unsafe or have leaks, please let us know. We can only make exceptions for the first but not for the second. Remember that hazardous items must be handled by licensed professionals who are trained to handle the appliances and type of junk you are trying to dispose of.
Get Ready to Dispose of Old and Damaged Appliances with Us
If you are ready to get rid of those appliances, call our team and make an appointment. Rest assured that every member of our team at Dear Junk can help you right away and offer all the support and assistance that you need.
Once you contact us, we will visit your home to determine the extent and type of junk to be removed. After we give you an estimate, you can request that we come back later.
This is not an obligation-free quote. We do not want you to feel pressured into hiring our services. We would be happy to meet you to give you an estimate since this allows us to see the scope of work and determine the final cost.
Our company is known for being the best in business. Our staff is professional and experienced, and our junk removal insurance is also covered, so every member is safe and insured. All expenses related to an accident will be covered by us so that you can relax and not worry about our removal team members in the event of an emergency.
Before we arrive, we will call you to set up an estimate and to hire our staff. This will allow you to prepare for us and to discuss your task.
What happens if you are not able to get help the next day or on the same day that you call? We will do our best to send a team and a truck to your house to remove all appliances. Once you accept our estimate, we will start to remove appliances. If we cannot accommodate your needs right away, we will work with you to find a solution.
To ask questions, schedule an appointment, or let us know if there is a last-minute service that we can offer, please contact our team. While we will try our best to get there when you need us, it is important to book us for larger removals, as this allows us to arrange for the trucks and other team members to arrive at your location.
Feel free to ask all your questions about this service and many others we offer in our company for either residential or commercial owners all over Florida.
Here is a list of our services you can get at Dear Junk:
---
Dear Junk is the top company in Florida that offers the best residential and commercial junk removal services. Here's our additional services:
---