Top Dirt Removal Services by Dear Junk Company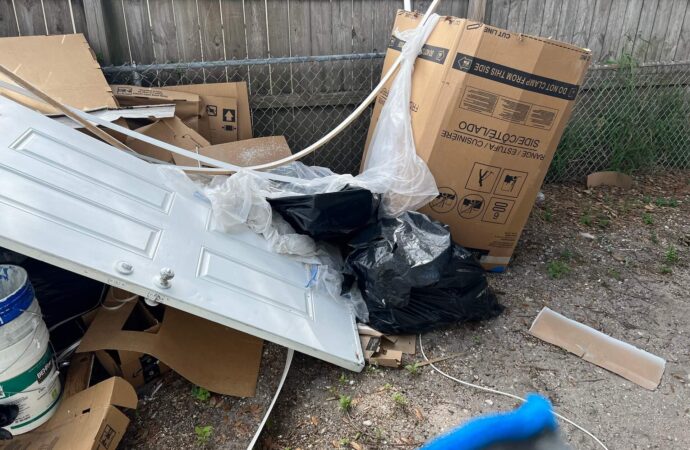 It can be hard to remove all dirt and debris left over from construction projects due to the lifting, moving it to the place or dumpster you will use for removal, and so on. You can fill a dumpster and then move the soil and dirt to another place so that the service you hire will pick it up. You can't depend on the municipal services for disposal if this is what you were thinking, so you have to deal with this problem. If you're working on a construction job, dirt removal should be part your contractor's job. What if it isn't? Our team at Dear Junk can help you. We are here for you, whether you're the one dealing with the dirt or the one who hired us to do the work for another property owner or if you're the contractor needing help to handle the dirt in a single place.
We can assist with all your dirt removal needs. This is a job you don't need to do yourself if you have a reliable and qualified company like us available in the area.
We will come to your location to assess the soil and determine its amount. Then we will provide you with an estimate so that you can decide if you want us to work for you.
What factors influence the quote? This information is the most important:
What amount of dirt do you need or more like: what about do you need us to remove for you?

How much work and effort does it take to get rid of dirt?

We will choose the type of truck we use, and how many members will be involved to finish the project by the deadline.
We are not trying to hide the fact that prices can change. However, you should not attempt to fix it yourself or deal with the dirt alone just because of this.
Even if dirt is left near garbage bins, local services will not pick it up. It is important to think about how you will dispose it, and how you can work around the dirt.
There are many factors to take into consideration. You don't have to worry about these things. Our team will remove all dirt and use the correct dumpsters and trucks. They'll also transport it to proper disposal centers and recycling facilities based on the items that can be found and if there is something that can be recycled.
Let Us Be Your Perfect Solution And Support
We won't ask you to clean up all the dirt and other debris on your property. What does all this mean?
There are many options for dirt removal, depending on what you need. We can help you with this process and provide support:
We can help rent a dumpster that is always on-site and available for you so that you can load all of your dirt in it and then we will go and pick it up to dispose of all the dirt you have been accumulating in it due to your project or how you're taking your time with the removal.

We can send team members to assist you if you need it. They will load the truck or dumpster and handle the disposal.

If you have clients who need dirt removed because of a project or service you offer, we can help as well since we know some companies, like construction ones, may need a hand or two to deal with dirt at some point.
We will remove the dirt and dispose of it. All of this will be covered during our first visit and the estimate we will give you is going to have the details of what we do for you.
The estimate is non-binding, so you don't have to hire us immediately. We are available to help you whenever you are ready.
You can reach us by filling out our contact form or calling our team. We are happy to answer any questions you may have and schedule a visit for you as soon as possible.
We are here to help you, so that you don't have too many thoughts or worries about the whole process.
We are available to help you today, tomorrow or whenever you feel the need, and rest assured we wknow what we are doing with all this dirt and how we must offer a complete coverage for all this process.
Contact Dear Junk today for more information and details about our service.
Here is a list of our services you can get at Dear Junk:
---
Dear Junk is the top company in Florida that offers the best residential and commercial junk removal services. Here's our additional services:
---