Top Carpet Junk Removal Services by Dear Junk Company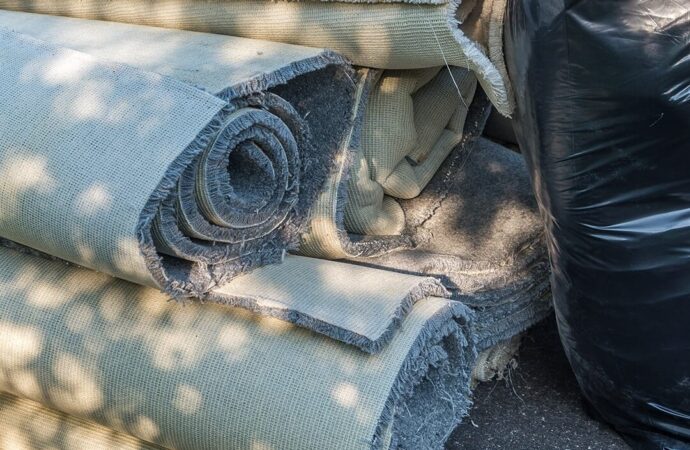 It is important to decide if you want to replace an old carpet with a newer one and if so, think about how you will have to remove the carpet from your floors. When this happens, it is time for you to dispose of it properly as well. It is a tedious task that can also cause damage to your floors. Dear Junk provides carpet junk removal as the main service, and if you are having difficulties, we will be there for you no matter how large your carpet is. We can assist you with any issues that may arise when disposing of your carpet.
You can choose to have carpets removed quickly and rolled up, or you can have carpets that have accumulated over time in commercial or residential properties. After you are done, it is important to remove and change the carpets in a safe manner. You will also need to dispose of them properly to avoid any potential problems.
Our job is to make sure that the carpet is removed quickly so that you can move on to your floors. Before you start removing the carpet, it is important to understand how it is attached to your floor.
Most carpets can be pulled up with brute force. You can separate the pieces using the tack strips and then take them off. You should be cautious if your carpet covers a large portion of your floor. While you can pull the carpet in sections, we don't recommend that you force it like literally with your force since this can end up damaging all the wood or main surface and the material.
What Is the Effect of Carpets on The Floor? Is It Difficult to Remove Them?
Most glue leaves residues after you have removed the carpet. This is normal, as glue can be strong and leave residues on your walls and foundation. Most carpets can be attached using this method, so you ought to know how your carpet is fixed or placed before you continue with the entire removal process.
Tack strips are made from small pieces of wood and placed on the ground with nails. They hold the carpet to the area it was placed. Although you can pull out the carpet pieces, it is best to use a hammer and be careful. These strips can be used again if you are replacing the carpet with a brand-new one.
It doesn't have to be difficult to get rid of glue or tack strips. You can remove glue with a scraper or a 5-1 tool. It is difficult to remove the glue that has hardened whatsoever, but you can solve this problem by heating the area with warm water. You can then return to your scraper and start scraping the hardened glue carefully, so you don't damage the rest of the surface in the process.
With a prybar or a hammer, you will need to remove carpet tack strips. Depending on how you do it, you can remove the nails one by one or multiply them at once.
If you find this too difficult or have any questions, our team will help you to remove the carpet pieces properly. We then load the truck with all the items and ensure that there are no residues on your floor and if there are, rest assured we will handle it for you if you wish.
What are the Next Steps for Getting Rid of Your Carpet?
Our team will pick up your carpets. This is particularly important if your local trash collection service does not usually pick up carpets or if you are concerned about how carpet is recycled or properly disposed of.
We can help you dispose of your materials and ensure they are either donated or left in the best transition stations.
We care about the environment and will make sure that your carpet doesn't end up in a corner. Dear Junk is proud to be an industry leader in eco-friendliness and how we ensure that junk and other items we remove go to the right places and are more environmentally friendly.
We can help you get rid of the carpet in your home or other properties.
Contact us right away to get a quote by scheduling a visit to your property, allowing us to see the carpet or carpets you want us to get rid of, and ensure everything is covered in the disposal and have us work around your needs once you have gotten the estimate and decide to hire us or not.
Here is a list of our services you can get at Dear Junk:
---
Dear Junk is the top company in Florida that offers the best residential and commercial junk removal services. Here's our additional services:
---